The partnership of Ron Tatley and Stace Grund started in July of 1991 with the formation of Tatley-Grund Inc. (TG). Since inception, the focus of the company has been to provide an exceedingly high-level of craftsmanship using proven and tested details with quality materials within the construction repair and maintenance segment of the industry. Both partners have a strong family history in the construction industry bringing a wealth of knowledge and experience to TG.
Ron Tatley worked for his father in the family's 35 year commercial caulking business working on large new construction as well as replacement projects. In addition, Ron served an apprenticeship with a commercial aluminum boat builder working his way through the company to shop foreman and designer. Ron also has vast experience in commercial wall covering installation, water intrusion testing and investigation as well as vertical access equipment rigging within the construction industry.
Stace Grund is fifth generation Owner of a commercial painting company which was started in Seattle WA by his great-great grandfather in 1898. Stace worked in the field for 5 years as a painter before moving into the office focusing on accounting, field operations, estimating and project management departments. Grund painting has grown over the years to an average one hundred man crew performing work on many notable projects including the Washington State Capitol Building interior painting of which Stace worked on.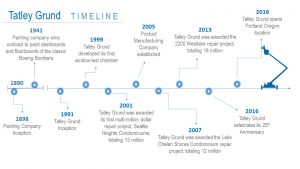 This wealth of experience propelled the company from fairly simple beginnings of a five man crew performing water intrusion testing and investigation with the associated small repair projects to a one hundred man crew as a full service general contractor. Over the years our direction has been to deliver high quality repair and maintenance work to our customer base but also to provide opportunities to our employees and sound leadership in the marketplace. We are very proud to say that the average tenure of our employees is over 8 years with many employees exceeding 20 years.
The company has been driven to develop better systems and materials to provide a higher performing building envelope cladding assembly to our customers. As a result, TG has developed many testing methods including the design and construction of a testing facility. In addition, the company is the patent holder on two material / system patents one of which is a widely recognized line of products sold throughout the U.S.