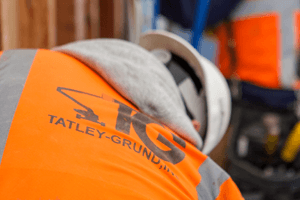 Since Tatley Grund's inception in July 1991, our company has grown from a five-man team to a full-service general contractor with over one hundred crew members.
And since 1991, our focus on great client communication, professionalism, out-of-the-box thinking, and self-performed work, has not changed one bit.
To truly represent the "TG way" we thought it was time for a new look, and part of that was a much-needed overhaul of TatleyGrund.com.
So, after months of work and planning, we have formally launched the new version of TatleyGrund.com.
Here are 4 reasons why we're excited about the new Tatley Grund website.
1. It highlights the principles that drive us.
Our founders believe a job well done is about more than doing great work. So does every Tatley Grund employee. We don't like to brag, but think company traits like honest client communication, as well as courtesy and professionalism during an occupied remodel, should be highlighted.
When we first started this project, we spoke to many current and former clients, and the characteristics mentioned above came through loud and clear.
2. It puts a face behind the company.
Most people want to know that there are individuals they can contact if something goes wrong or they just have a question about what a company offers.
Our new people section gives you a chance to virtually meet the team, and gives each customer or site visitor a chance to find and communicate with an individual Tatley Grund team member.
3. It gives you a closer look at our projects.
Our project profiles section will give you a more thorough look at the types of projects we work on and the details regarding a particular project, including the service offerings tied to that project.
4. And finally, it displays our new company branding.
After months of deliberation we've decided to shed the old Tatley Grund teal in favor of a new blue, which is certainly highlighted on this website.
We've also updated the look and feel of the Tatley Grund logo. We think the new logo and tagline better represent who we are and what we do.
We hope you enjoy the new website and look forward to any comments you might have regarding our new site and branding.